Where does Hummus come from?
The hummus or humus (in Arabic: حمص / ḥummuṣ; Levantine pronunciation: [ˈħɔmmɔsˤ]; in Hebrew: חומוס; in Armenian: համուս) is a culinary preparation from the Middle East, composed notably of chickpea puree and tahini (sesame puree).
It is a typical dish of Arab, Jewish, Armenian and Levantine cuisine.

Is Hummus Israeli of Lebanese?
This preparation is of very disputed origin: at least seven countries consider themselves the motherland of hummus and the "war of hummus" is regularly reported in the press.
It is also exported for consumption in Europe and America.
You see Hummus a lot in Israeli TV Shows et sur Series.
How to make Hummus?
INGREDIENTS: 4 PERS.
150 g of dried chickpeas (or canned)
1 clove of garlic, cut into four (or dehydrated garlic)
80 ml of Tahini (or tahini)
50 ml lemon juice
1 C. chopped parsley
1 or 2 tsp. tablespoons of olive oil
1 C. teaspoon salt
1 pinch of cayenne pepper
Preparation
Cooking
Authentic Hummus : the long recipe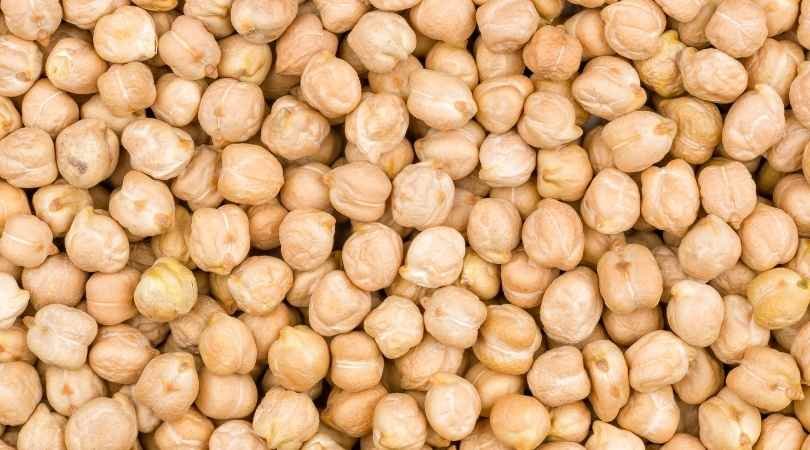 Start by preparing the main ingredient of your traditional hummus the night before. To do this, put the dried chickpeas in a bowl, cover them with cold water and let stand for 1 night.
The next day, drain the chickpeas and place them in a pot of cold water that you bring to a boil. Let simmer for about 45 min. Drain them, saving the cooking juices, and pour them into a bowl, removing the membranes as much as possible.
Mix the chickpeas with the tahini, a peeled and quartered garlic clove, and the lemon juice. Mix while adding little by little cooking juice to obtain a smooth, creamy and homogeneous paste.
How much tahini should you put in your Hummus?
Well it's a matter of taste, although it's generally between 30% to 40% in the good hummus stores in Israel.

Authentic Hummus : the short recipe
This is my favorite.
You don't need much time and it's absolutely delicious.
Use canned chickpeas. Put them in a pot together with the water inside the can. Add some chicken soup powder and 2 garlic cloves (if you want you can add some sweet potato, oignons or herbs).
After 5 minutes boiling, put the chickpeas into a bowl with 3 teaspoons of cooking juice.
Mix the chickpeas with the tahini, a peeled and quartered garlic clove, and the lemon juice. Mix while adding little by little cooking juice if needed to obtain a smooth, creamy and homogeneous paste.
Serve the Hummus in a plate, make a form of well and put inside some tahini, olive oil, parsley and a boiled egg.
What is hummus made of?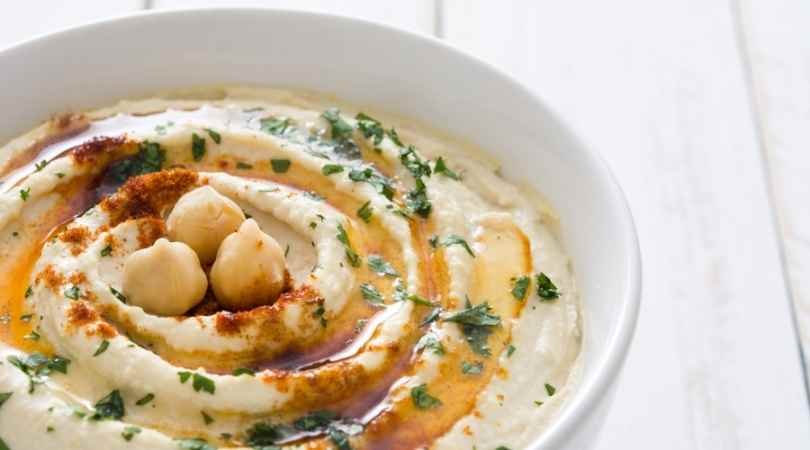 Hummus is made of cooked chickpeas, after being reduced to a very smooth purée and mixed with the tahini.
The creamy mash is seasoned with crushed garlic, salt and lemon juice.
Hummus is served cold with olive oil, usually sprinkled with ground cumin and chili (sweet paprika).

Is it OK to eat hummus everyday?
Fortunately, hummus has a number of nutritional benefits that far outweigh its calorie content.
If it's homemade, the preparation has almost everything.
Thanks to its chickpeas, it is first of all rich in vegetable proteins, great health allies.
These, unlike animal proteins, do not increase blood pressure, protect against diabetes and reduce bad cholesterol levels.
Then, "Tahini (sesame puree) provides lipids and vitamin E.
The latter is antioxidant and notably guarantees the suppleness of the skin
Hummus also contains garlic; ancestral superfood, source of minerals, antioxidant, antibacterial and friend of the intestines and the heart.
Cumin, on the other hand, promotes digestion and fresh lemon juice provides vitamin C.
Finally, the olive oil contained in hummus provides good fatty acids (omega-9 prevent cardiovascular disease, omega-6s help lower cholesterol.
Why is hummus not good for you?
Even if Hummus has great nutritional benefits, hummus remains high in calories.
And not only half.
It accounts for more or less the same energy intake as a cheeseburger made in a fast food restaurant …
How many calories in Hummus?
For 100 grams, there are approximately 280 to 300 calories.

What are the benefits of hummus?
Like every legume, soak the chickpeas the day before cooking them.
They contain Phytic Acid which inhibits the assimilation of all the good nutrients.
In addition, cooking will be accelerated (15 minutes instead of 40-50 minutes).
Prefer an al dente cooking where your chickpeas are just crispy and firm in the mouth.
Buy organic chickpeas because they contain less pesticides.
Avoid buying canned chickpeas (aluminium).
Of course you can sometimes use it, it's so much easier…
But canned chickpeas contain lots of endocrine disruptors.
If you are in a hurry, buy them in glass jars without additives or preservatives.
Try sprouted chickpeas.
Sprouting awakens the pea and naturally increases the nutrient content.
With this process, you have a real nutritional bomb!
To do this, soak the chickpeas all night long then rinse them with clear water.
Let them germinate in a glass germinator (a simple jar that you can buy or make) or a flat container by draining all the water well.
Rinse 2-3 times a day.
When the peas germinate, you can eat them raw on the go or in a salad.
Avoid associating the chickpeas with an animal protein (meat, fish, egg…).
In order to better digest and assimilate the nutrients, associate them rather with vegetables or whole grains.
In fact, combining chickpeas and vegetables is a simple way to increase the amount of vegetables consumed for those who do not eat enough.
For example, 4 spoonfuls of hummus (100 kcal) per day allows you to consume 2 cups of vegetables per week, essential for many adults and children.
There are lots of delicious recipes for wholegrain salads with chickpeas.

Is Hummus really healthy?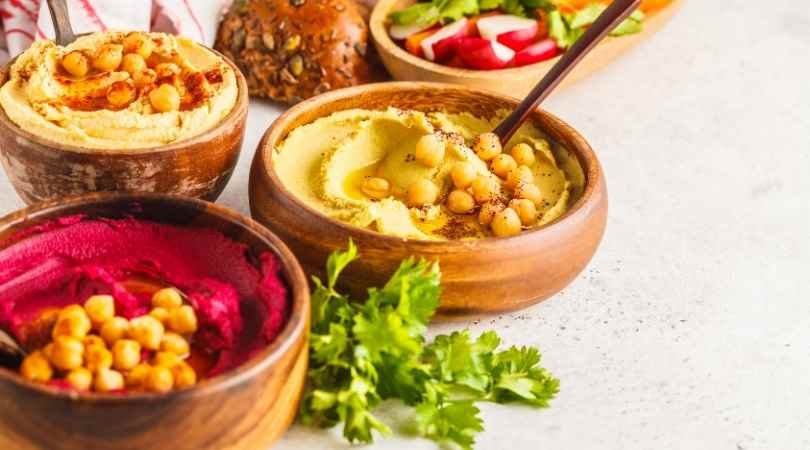 You can find it in all sorts: coral lentils Hummus, beans Hummus, beets Hummus, zucchini Hummus, or even chocolate Hummus.
Hummus has definitely made its way onto supermarket shelves.
But is Hummus good for your health?
Composed mainly of chickpeas, it really has everything to please.
Indeed, this legume is rich in vegetable protein, dietary fibre, antioxidant nutrients, folate, magnesium, potassium, iron and vitamins A, E and C.
According to a study cited by Health, regular consumers of chickpeas and hummus have a lower BMI and waist circumference than those who do not eat them, and have 53% less risk of obesity.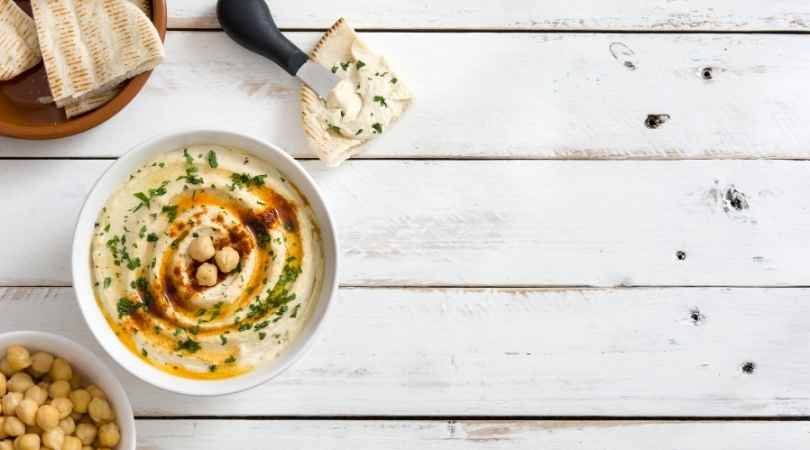 Other research suggests that hummus may help compensate for spikes in blood sugar levels from foods with a high glycemic index.
Chickpea consumption is also linked to improved intestinal health and protection against heart disease, type 2 diabetes and some cancers.