Ulpan Integraliah : Learn Hebrew in Tel Aviv and Online
Join over 3,000 success stories, become fluent in Hebrew, 
dare to speak Hebrew, get the Israeli culture...
 Bekitsur Live Your Life In Hebrew Today
Learn Hebrew with Ulpan Integraliah
Ever wanted to negotiate prices at the shuk, watch Israeli TV shows and understand what your Israeli co-workers are saying? At Integraliah, you'll learn Hebrew in a fun, dynamic and practical way while connecting to the uniquely amazing Israeli society and culture.
Ulpan Integraliah has the best reviews among all ulpans in Tel Aviv and ulpans in Israel.
ULPAN INTEGRALIAH TEL AVIV, TESTIMONIALS
"Thanks to Ulpan Integraliah, I became totally independent in Israel, that was my goal."
"I got my dream job in Israel, I can now exploit my full potential. I.m so happy!"
"More than just lessons, each course is a real immersion in Israeli society".
FREE TOOLS TO LEARN HEBREW
Hebrew Podcast to learn hebrew everywhere, anytime
Every week, find out a new interesting podcast to learn Hebrew, whatever your level. Hebrew and Israeli culture will no longer hold any secrets for you.
Hebrew blog to learn hebrew and israeli culture
Stay up to date with all the cultural news in israel, israeli series, israeli songs, israeli food and much more.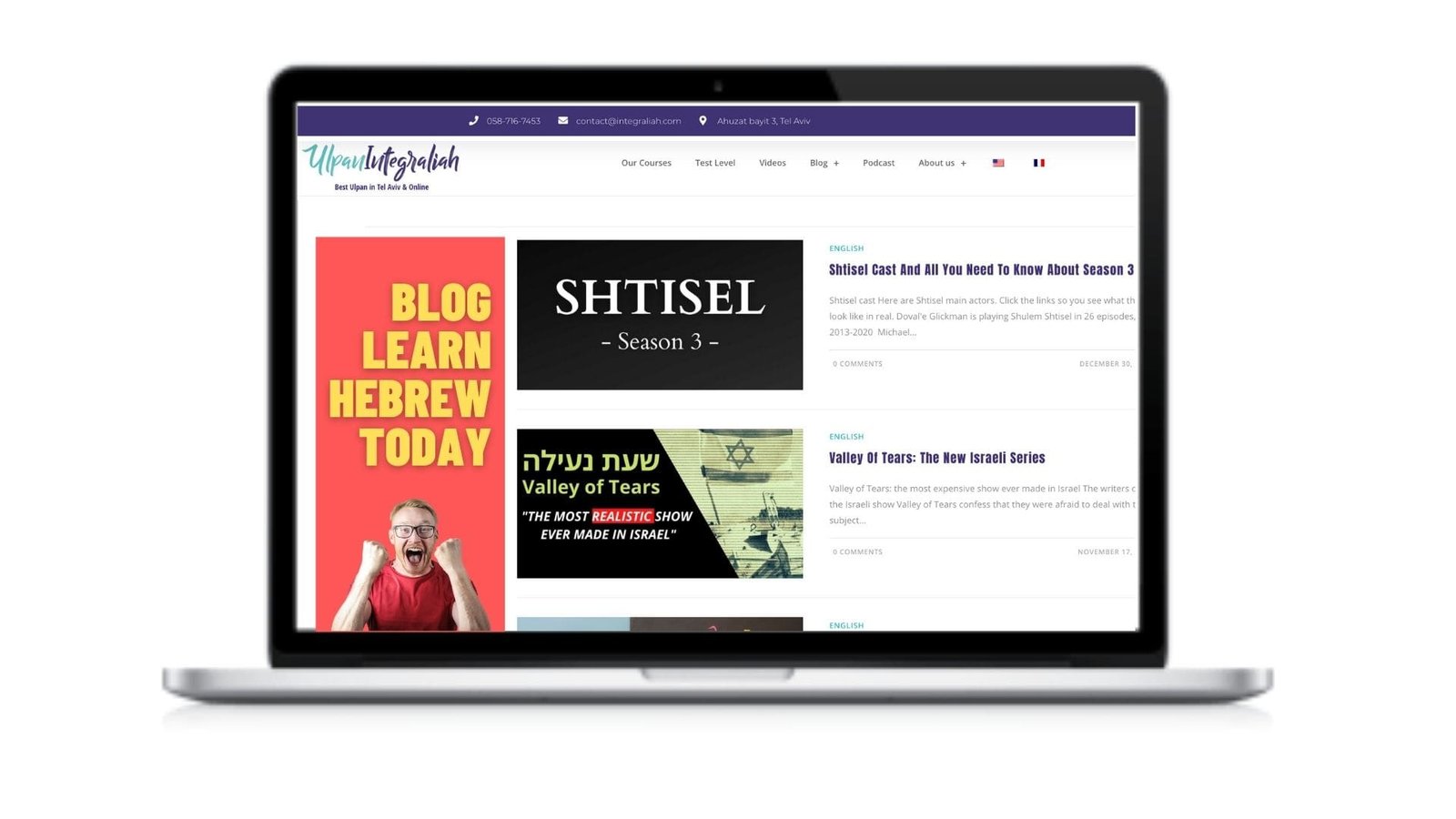 Videos to learn hebrew the fun way
Learn Hebrew for free and from home with ulpan integraliah's videos.
Learn Hebrew , Ulpan Tel Aviv, Hebrew Online
Ulpan in modern Hebrew means studio. Ulpan is the word also used for hebrew schools. In Ulpan you learn to read Hebrew .
Ulpan is also used to learn Hebrew for beginners , conversational Hebrew , learn Hebrew words, practice reading Hebrew .
If you type Ulpan Tel Aviv, Ulpan Tel Aviv Telaviv , Ulpan near me , Hebrew class, Hebrew class near me , Ulpan online Online or Learn Hebrew on the search engines, you will probably find Ulpan Integraliah.
This Ulpan – Hebrew class – is located in Tel Aviv in the Rothschild neighborhood (south of Tel Aviv). The Hebrew courses are given in Tel Aviv classrooms but you can also learn Hebrew from home, thanks to the online Hebrew courses. Online Hebrew courses are for all levels of Hebrew, i.e. Hebrew for beginners, Hebrew lessons intermediate level or Hebrew advanced level.
Ahuzat Bayit St 3, Tel Aviv-Yafo