Gilad Shalit was born in Israel.
He joined the Israeli army in 2005.
After a year of exercise, the corporal is taken prisoner by Hamas soldiers in an ambush.
He will spend five years in hamas prison.
Gilad Shalit or Guilad Shalit, (Hebrew: גלעד שליט), born August 28, 1986 in Nahariya, Israel, is an Israeli army soldier and French-Israeli citizen.
On June 25, 2006, he was captured by a Palestinian commando in Kerem Shalom.
His kidnapping is claimed by the Izz al-Din al-Qassam Brigades, the Popular Resistance Committees (PRCs) and an unknown group calling themselves the "Army of Islam", announcing their intention to exchange Gilat Shalit for Palestinian prisoners held in Israel.
Israeli Prime Minister Ehud Olmert refuses any negotiation and launches Operation Summer Rains on June 28, 2006, which will not allow the hostage's release.
Then, with the help of the Egyptians and a German mediator, negotiations began. Hamas then offered to exchange Gilad Shalit for nearly 1,000 Palestinian prisoners.
The Israelis initially refused to release the detainees "with blood on their hands," but agreed in December 2009 on condition that they be banned from entering the West Bank.
The proposal is rejected by Hamas.
According to Hamas, which refused to let the International Committee of the Red Cross see him, he was detained in Gaza, with no proof of life being provided between September 14, 2009 and his release.
On October 11, 2011, the Israeli government approved a serious release proposal1.
He was released on October 18, 20112.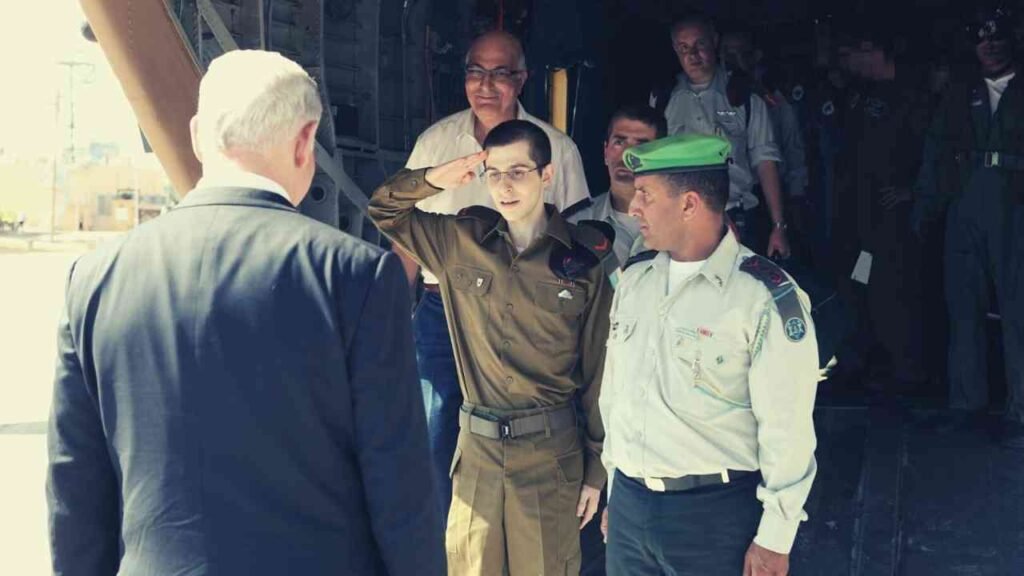 Gilad Shalit : Biography
Gilad Shalit was born in Nahariya, where he lived until the age of two. He then moved with his parents to Mitzpe Hila in the Western Galilee.
He graduated with honors from Kabri Manor High School. At 19, Gilad then began his military service in the Israel Defense Forces "despite a low medical profile".
He obtained the rank of tanker corporal in the Israeli army and was promoted to sergeant during his captivity.
Gilad Shalit : the Capture
On Sunday, June 25, 2006, he was captured by Palestinian fighters who attacked an armed post on the southern border of Israel through a tunnel near Kerem Shalom, in the southern Gaza Strip.
Palestinian fighters throw a grenade into an Israeli army Merkava tank, two soldiers are killed, and Gilad Shalit, who had fallen asleep according to his statements to the military authorities is wounded and taken prisoner.
Two other Israeli soldiers were injured, and two Palestinian fighters were killed by Israeli soldiers during the attack.
Mohammed Abdel Al, a spokesperson for the Popular Resistance Committee, revealed that the attack on the location had been planned for two months.
The IDF, for its part, estimates that it took between 3 and 6 months to dig the tunnel.
The attack is jointly claimed by the Ezzedine Al-Qassam Brigades (armed wing of Hamas), the Popular Resistance Committee and the "Army of Islam", a group created in late 2005 with the help of Hamas and claiming to be from the current of Al-Qaeda, which leads from Hamas to a certain circumspection towards it7.
In an article in the Haaretz daily dated March 29, 2013 and based on extracts from his questioning by military security, Gilad Shalit was criticized for his passivity in the face of the attack on his tank.
He would have decided to stay in his tank, instead of fighting his assailants.
Gilad Shalit : Israeli reaction
As efforts by Israeli forces and the Palestinian Authority to locate him during the next two days were unsuccessful, Israel launched Operation Summer Rains on June 28, 2006.
This involved closures, incursions, arrests and airstrikes on the Gaza Strip which left more than 200 dead and more than 800 injured.
Hundreds of detainees including Palestinian parliamentarians and Hamas ministers of the Palestinian Authority are added to the approximately 10,000 imprisoned in Israel.
Dozens of homes, public buildings, roads, bridges and the territory's main power station were destroyed9. However, Gilad Shalit is not found.
On May 25, 2011, former Israeli Chief of Staff Gabi Ashkenazi admitted that Israel did not know where Gilad Shalit was being held.
It was a year after his kidnapping on Monday, June 25, 2007, that Hamas posted an audio recording of Gilad Shalit on the Internet.
The latter declares in particular that "his state of health continues to deteriorate".
During his visit to the soldier's family, Israeli President Moshé Katsav called on the kidnappers to allow a visit by the Red Cross to their prisoner.
On October 2, 2009, Hamas exchanged a video, dated September 14, 2009, showing Gilad Shalit, apparently in good health, against 20 Palestinian women prisoners held in Israel.
Hamas demands and negotiations
On April 30, 2007, Hamas leader Khaled Machaal called on the Israeli authorities to release several hundred Palestinian prisoners in exchange for soldier Gilad Shalit, used as currency.
While Israel is prepared for this exchange, it nevertheless refuses that this measure be applied to those who have "blood on their hands", which is the case for many of them, according to the Israelis.
According to Al Jazeera, in mid-2008, an exchange of Palestinian prisoners for Gilad Shalit would have been prevented by lobbying from the Palestinian Authority, which did not want to give Hamas the spotlight.
In June 2009, after the war in Gaza, Hamas called for the release of around 980 Palestinian prisoners in Israeli jails.
As Hamas refuses any change in this list, the negotiations still fail.
In 2009, negotiations were conducted in Egypt between the Israelis and Hamas under the aegis of a German mediator.
The draft agreement debated on December 21 provides for against the release of Gilad Shalit, that of a thousand Palestinian prisoners, some having participated in deadly attacks in Israel.
This plan strongly divides the Israeli cabinet and the opinion of the country, especially as an agreement would further strengthen Hamas vis-à-vis the Palestinian Authority of Mahmoud Abbas.
Israel demanded that 100 to 130 prisoners who were responsible for the death of Israelis be expelled to the Gaza Strip or at least banned from staying in the West Bank.
On December 30, 2009, Hamas rejected this offer.

On October 11, 2011, the Israeli cabinet approved an exchange of prisoners agreed with Hamas thanks to Egyptian mediation, allowing the forthcoming release of Gilad Shalit against that of 1,000 Palestinian prisoners in Israel.
However, three ministers voted against this agreement, including Foreign Minister Avigdor Lieberman and Deputy Prime Minister Moshe Yaʿalon.
On October 16, Israel publishes the list of the first 477 prisoners who are expected to be released on October 18 before Gilad Shalit.
Among them are more than 280 people sentenced to life imprisonment for crimes of blood, and in particular for their participation in deadly attacks, which triggered a stir in Israel.
Shalit was finally released on October 18, 2011 at the same time as 477 Palestinian prisoners were released by Israel (including 27 women) 2.30. 550 other Palestinian prisoners were released on December 18, 2011.
Gilad Shalit Now
In 2012, a year after his release, Gilad Shalit gave his first interview on Israeli television where he spoke of his 1,942 days in captivity.
The same year, he began a career as a sports journalist53,54 and in September, he was invited by the Barcelona football club to attend one of its matches, a club that Palestinians are calling to boycott.
In October 2013, he resumed studies in economics at the University of Herzliya and began working in 2016 in an Israeli bank, the Discount Bank.